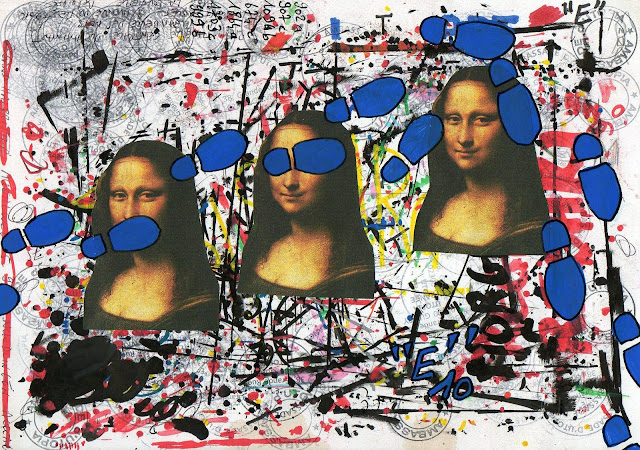 Envoyé pour le projet "Les singes de la sagesse".
Exposition internationale.
Les singes de la sagesse – The monkeys of wisdom
La ville de Chauny (Aisne - France) a comme emblème les singes de la sagesse.
L'origine des singes de Chauny est assez obscure.
Quelques historiens locaux pensaient que ceux-ci étaient la représentation qu'on se faisait des bateleurs, jongleurs et montreurs d'animaux divers qui étaient établis en confrérie à Chauny.
Rabelais, qui a certainement vu les jongleurs de Chauny, parle d'eux dans Gargantua : "Gargantua s'amusait moult à voir les bateleurs surtout ceux de Chauny en Picardie, grands jaseurs et beaux bailleurs de balivernes en matière de singes verts".
Le projet est le suivant :
- Ce projet est ouvert aux Artistes du monde entier ayant envie de partager et exposer leur travail. Toutes les techniques sont acceptées.
- Format 21 cm X 30 cm, support cartonné (pouvant être relié).
- Vous devez représenter votre vision des « singes de la sagesse ».
- Une fois terminée, vous devez envoyer votre œuvre à cette adresse:
« E » - Ambassade d'Utopia – 38 grande rue – 02300 Guivry – France
- Une exposition des œuvres reçues aura lieu au centre culturel de Chauny, le Forum, en début d'année 2011.
Les dates précises d'exposition seront données par la suite sur notre blog.
- A l'issue de l'exposition les œuvres seront reliées manuellement par « E » afin de créer des livres d'Artistes qui seront mis à disposition des écoles et médiathèques de la région. Les œuvres connaîtront ainsi une seconde vie dans une exposition itinérante en 2011. Les œuvres ne seront pas renvoyées aux artistes et resteront la propriété de « E » pour d'autres expositions itinérantes…
- Un blog est déjà créé afin de présenter les œuvres reçues et donner des informations sur l'avancement du projet. http://expositionsingeschaunois.blogspot.com/
- Fin des envois le 31 décembre 2010 pour exposition début 2011.